About Bob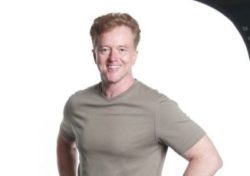 In March 2009 during the worst economic crisis since the Great Depression, Bob David founded Bob David Live Inc. and later authored a book entitled "The Undaunted Life: How to Succeed No Matter What" to show people practical ways to navigate challenging times and achieve ultimate success in business and life.
As the son of a college professor and a concert pianist, Bob David grew up with a passion for learning and live performance. And his personal quest for success began when his legendary High School Football Coach Billy Henderson in Athens GA. inspired an amazing "before and after" physical transformation in Bob his sophomore year that took him from being a scrawny saxophone player in the marching band to starting on a 15-0 State Championship team ranked #1 in the Nation. He then earned a full athletic scholarship to attend Furman University where he was a four year letterman on three Southern Conference Championship Football Teams under the charismatic leadership of another highly successful Coach and mentor Dick Sheridan who lead the Purple Paladins to shocking upset victories  against much larger opponents such as University of South Carolina, North Carolina State and Georgia Tech. And despite a grueling academic and athletic schedule, Bob graduated cum laude in Business Administration from Furman University.
At age 21 he began his career in the investment industry with Merrill Lynch in Atlanta GA – becoming the youngest hire in the nation in his financial advisor training class. Bob was a long shot to make it was he had no contacts and no prior financial experience but defied the odds by building a clientele from scratch through cold calling, referrals, speaking, networking and niche marketing to become a record setting Financial Advisor.
At age 27, Bob moved to Southern California to become the youngest branch manager at Merrill Lynch. Later at Prudential Securities he was named to the prestigious Branch Managers Advisory Council.
Then as Senior Manager – Practice Management Consulting Group of Wachovia Securities in Richmond VA he successfully coached many of the firm's top advisors and advisor teams. He also moderated multiple practice management sessions for summits featuring Barron's Top 100 Advisors.
Today Bob David is a leading transformational change expert and motivator who delivers business and life success strategies as an author, speaker , coach and consultant with 20 + years specialized experience coaching Financial Advisors and Wealth Management Teams.
His hobbies include health/fitness, traveling, hiking, snow skiing, reading, watching competitive sports and volunteer youth sports coaching.